Hotels are all very well but I often feel compelled to leave the room I've booked just to have some human interaction and feel part of the country I'm in, even if what I really want to do is chill out and just be at home somewhere. Hostels can be handy places to meet people in your room if you've got a dorm but they're not everybody's cup of tea! I think I'm probably too old for them now and while I love a good chat with fellow guests I also love my own space. Thankfully there is a much better solution than any hotel or hostel and that's short term rentals. We're very pleased to announce a new partnership with Roomorama, a relatively new kid in town on the short term rental scene but already boasting some great properties and a website that makes it easy for both those looking for accommodation and those offering.

Of course any good partnership, especially with bloggers means trust, so we were very keen to try out our first short term rental experience and see if it really is a better way to stay! As we're currently in South East Asia we found a very intriguing property known as the "Urban Sanctuary" just a short MRT ride out of central Singapore to a little slice of historic suburbia. The booking process was easy and very personal. You inquire with the owners directly through the Roomorama website and get to have a real conversation about amenities, location and availability, before you book. Apart from a couple of unexpected security hoops to jump through the booking process is simple. As Roomorama are facilitating strangers staying at people's homes you can understand the security.
Staying in Wessex Village, Singapore
We jumped in a cheap Singapore taxi with all our bags and cruised around the former British Army barracks at Wessex Village. Surrounded by high rises, it's an idillic setting thanks to the lush vegetation that hides the adjacent residential blocks, beautiful trees lining the roads and striking white and black buildings that are now invite-only apartments that local creative types can rent. This selective system has ensured that every apartment block is well looked after and is a treat from all the hotels and condos in the city.

Vivian and Leslie greeted us on our arrival and helped us with our bags. From the moment you arrive you feel at home and that's the major difference from any other accommodation. You feel like you've come home and have met people happy to share their lives with you, their kitchen, their lounge and a beautiful balcony to chill out on. Just a short walk to a hawker centre for cheap Asian food and an MRT in to town, it's quite unusual to be close to the city but away from the hustle and bustle.
Lots to talk about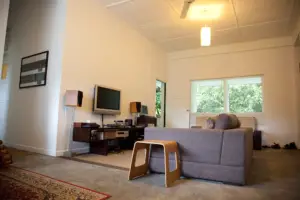 The presidential elections in Singapore happened during our stay so the big day gave us something to talk about and politics of our nations to compare. Aside from having a "home" to stay in rather than just a room, it's the conversations we enjoy, finding out about real local's life, likes, dislikes, opinions and facts. We learnt more about Singapore that night than we ever have before.
We were lucky enough to spend 4 days with Vivian and Leslie. Long enough to feel like flat-
mates and that we naturally belonged. Not just another couple in their hotel box of a room. You can't put a price on that feeling and it's not a feeling you often get when travelling either.
Speaking of price, it could quite easily sound like an expensive option for accommodation, considering you get not just a cosy bed (with air con of course) but also space to call home for a few days. The Urban Sanctuary that is Vivian and Leslie's apartment was $91 Singapore Dollars a night ($75 USD) which is a cheaper than 90% of the hotels in Singapore! Certainly cheaper than the tiny room we paid for in the city.
Conclusion
Naturally I'm very pleased Roomorama, the short term rental experts, are now our new accommodation partner on Travel With a Mate. I must say a massive thank you to Vivian and Leslie for being such great hosts and sharing their beautiful home with us. I'm definitely hooked on short term rentals now and if they're cheaper than a hotel, it's really a no brainer.
Roomorama
You search for short term rental properties all over the world at Roomorama.com. Sign up today for free and check out a few properties. You can contact the owners directly and find a property that best suits your budget and needs. It's a great way to view a new country in a really authentic way.
With thanks to our hosts Vivian and Leslie at the Urban Sanctuary, Singapore and to Roomorama. If you're looking for Singapore short term rentals then Roomorama is a great site to find them!