Every phone has a camera these days. Smart phones are becoming the norm and the quality of the cameras built in to these devices is forever improving. It's getting common for upwards of 5 megapixels in this miniature marvels. The Nokia N8 is one such smart phone but the camera in this device really packs a punch. Boasting a whopping 12 megapixels, on paper it sounds almost too good to be true. But is it?
On a recent ski trip to the beautiful alps of Austria I was able to road test the Nokia N8 and really put it through it's paces. From the urban streets of Innsbruck to the sub-zero temperatures high up on the ski slopes, I was excited to see if this smart phone was as smart as they say.
Nokia N8 specs
Firstly a few stats. This smart phone has everything you'd expect form a smart phone these days. It can do photos, HD video at 720p, wifi, 3G data, bluetooth, etc. What it also has are FM receivers and transmitters. Handy for radio on the go and for broadcasting to your car's stereo. Nice to have those features built in. It has 16GM of memory built in and a card slot for up to 32GB, again it's nice to see swappable memory in a smart phone so you can upgrade the capacity without changing the phone.
The camera is 12 Megapixels with Nokia's usual Carl Zeiss lens on the sensor. It auto focus, face detecting and has a front facing camera for video calls. It also has a real camera flash on it, not an LED flash, so the light output from the flash is much brighter. Nice to see a smart phone with that too as I've never been a fan of LED flash.
Road testing the Nokia N8
Never one to waste time, I started taking photos before our plane had even taken off! it's camera controls are fairly intuitive, there's a dedicated camera button on the side of the phone that starts the camera app and also takes pictures. I quite like having a dedicated button for this as you get straight to shooting when you want to. It also helps you hold the phone like a camera which feels more natural.
I soon found a slight flaw in the camera software. I was lucky enough to sit at the front of the plane with a view out of the window, back towards to the jet engine. It's quite a sight when you're flying over the beautiful alps. Worth of some video recording! I held the Nokia N8 to the window and realised the the lens was on the wrong end of the phone to get a decent angle. Being an Apple iPhone user i instinctively flipped the phone round so the lens was in the right position, unfortunately the N8, even with it's built in accelerometer, couldn't detect what I had done and forced me to record the video upside down! Thankfully I'm geeky enough to know how to rotate video 180 degrees with editing software but for the every day user this limitation was a little annoying.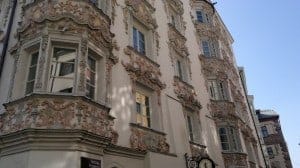 Once in Innsbruck I set to work snapping photos while we were sight seeing. Pretty instantly the camera came in to it's own, picking up great detail in the gorgeous buildings of the old town, dealing with bright sunlight and blue skies well and reproducing colours very nicely. There is a digital zoom feature but quality soon drops when you start zooming in so this was less useful. Never the less it was easy to whip out and take a decent snap, as good as any compact camera.
While you can manually set some exposure levels with the Nokia N8 you're mostly going to use it in auto mode. The iPhone has a very handy feature for picking the point in the image you wish to focus on and expose correctly. In the N8 there is a similar feature but it only sets the focus. So if you're in a half bright, half dark scenario you cant exposure the dark correctly. You get used to this limitation and adjust how you take photos but it would be nice to semi-auto expose like other smart phones.
Sightseeing in Innsbruck, A short video shot with the Nokia N8
Hitting the ski slopes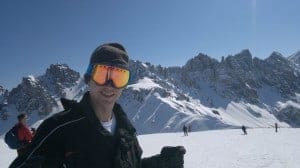 Now it was time to really test the Nokia N8 in some extreme conditions. The phone was kept safely in a zipped up pocket in my ski jacket, occasionally stopping high up on the mountains to take some views. With an abundance of snow the conditions are tough for any camera. The ground being brighter than the blue sky, this can easily catch a compact camera out and lose any detail of mountains or skiers. I was surprised to see that the N8 handled it perfectly. The dedicated shutter button means taking a bunch of snaps in quick succession was nice and easy. Video was equally as good in fact thanks to the 12 megapixel sensor digital zooming for video is a useful option, there's no loss of quality although handling the zoom function on screen is a little clunky.
At times I was even able to ski with the phone in my hand and produced some half decent video of my wife skiing too. As a smart phone it definitely surpassed my expectations in such conditions and didn't seem to have any major problems even when it was -2C.
Switching off instead of standby
One very annoying problem I had with the Nokia N8 was the stand by feature. Hitting the sleep button on the phone presents you with an on screen menu of options. rather stupidly the Standby and Switch off options are right next to each other. All it takes is one slightly inaccurate tap and you've turned your phone off instead of put it to sleep! Powering back up is your only option which can take a few minutes. I did this at least 6 times during my week away. All it needs is an "Are you sure" box before it switches off and that would have saved me.
Low light conditions
We ventured out of our gorgeous hotel to sample some of Innsbruck's night life. There's some fantastic restaurants here and food worth of a photo or two. Thanks to the built in proper flash it handled these situations with ease. Smart phones have a tendency to make people look rather green in photos, no such issue with this one so I was more inclined to take night pics too. Disabling the flash for some steady handed night photos proved the camera can even handle these conditions which was a surprise.
Conclusion
I was initially very impressed with the quality of the photos this smart phone produced. Considering it's a featured packed phone it handled all the things i'd want to do with a simple compact camera. I got used to the camera app pretty quickly and only found a few situations where i was a bit limited by it's software. The operating system isn't the greatest, I found it's response sometimes a little clunky and the camera app did crash a number of times when i went to take a photo. Problems aside the camera in this smart phone is very good. So good in fact i did find myself taking more photos and video than usual. When the quality is there you're more inclined to use it and there's some nice social networking features to share your photos.
As a phone there are some flaws but as a camera it excels above other smartphones. Whether that's enough for you really depends on what you mostly use your smartphone for. If you're looking to ditch the compact camera and just carry a phone then the Nokia N8 is worth considering.
Video taken with the Nokia N8