After 5 amazing weeks in Australia with Britz Campervans on our epic #GoByCamper road trip we finally found ourselves waving goodbye to the land of Kangeroos and a big hello to the land of Kiwis! We flew from Cairns to Queenstown via Sydney and we're spoilt twice on the way, once by an amazing view of the Sydney CBD then again as we flew between the soaring mountains of Queenstown as we approached New Zealand and the next stage of our road trip adventure. I highly advise getting a window seat!
Even disembarking the plane is an event with grand mountains all around. Queenstown is a small airport so our bags soon appeared and we were ready to pick up our latest campervan! This time the adventure continues with Maui Motorhomes and one of their fabulous 6 berth campervans. First we needed to get from the airport to their office, made super easy by their free pick-up service. Just grab the white phone in the arrivals and dial 5 to speak to Maui. They were with us in 5 minutes and whisking us off to the Maui Centre just around the corner. Getting our new set of wheels was quick and painless, they made sure we had everything we needed for the next 3 weeks on the road travelling all the way up to Auckland. But first we had 2 nights in Queenstown to enjoy!
Exploring the Queenstown region
The great thing about having our van was we could get right to it and start exploring. Rather than just being stuck in the town centre we had a chance to be spontaneous and take a few random roads to map out the town and its grand Lake Wakatipu. The views here are just overwhelmingly spectacular from every angle and we delighted in driving along the edge of the lake and stopping numerous times to enjoy the view. It feels so quiet and serene here with nothing but the birds tweeting and the occasional boat on the water. There's plenty of little stops along most roads with car parks wide enough for campervans. We spent a couple of hours just cruising around and admiring the panoramic views.

While Lake Wakatipu is a beautiful sight its the remarkable "Remarkables" mountain range in the background that are the real draw for the eye. So called for completely obvious reasons, the vista really is remarkable and the region offers some fantastic skiing in winter with plenty of "tramping" (treks to you and me) in the warmer months. Our Top 10 holiday park was situated just a 10 minute drive from the centre of town just past the Shotover river where we witnessed some daredevil jet boat action. The boats zip up and down the river beneath the road bridge, skimming against the rocks and overhanging branches of trees, scaring the daylights out of the passengers and offering views along the gorge they wont soon forget.
Skyline Gondola
One of the best ways to get truly breathtaking views of the entire town, the mountains and the lake all in one go is by ascending to a higher vantage point with the Skyline Gondola.  The trip up in a cable car gondola takes just 5 minutes and costs are rather expensive $32 per adult but you really wont get a better view than this.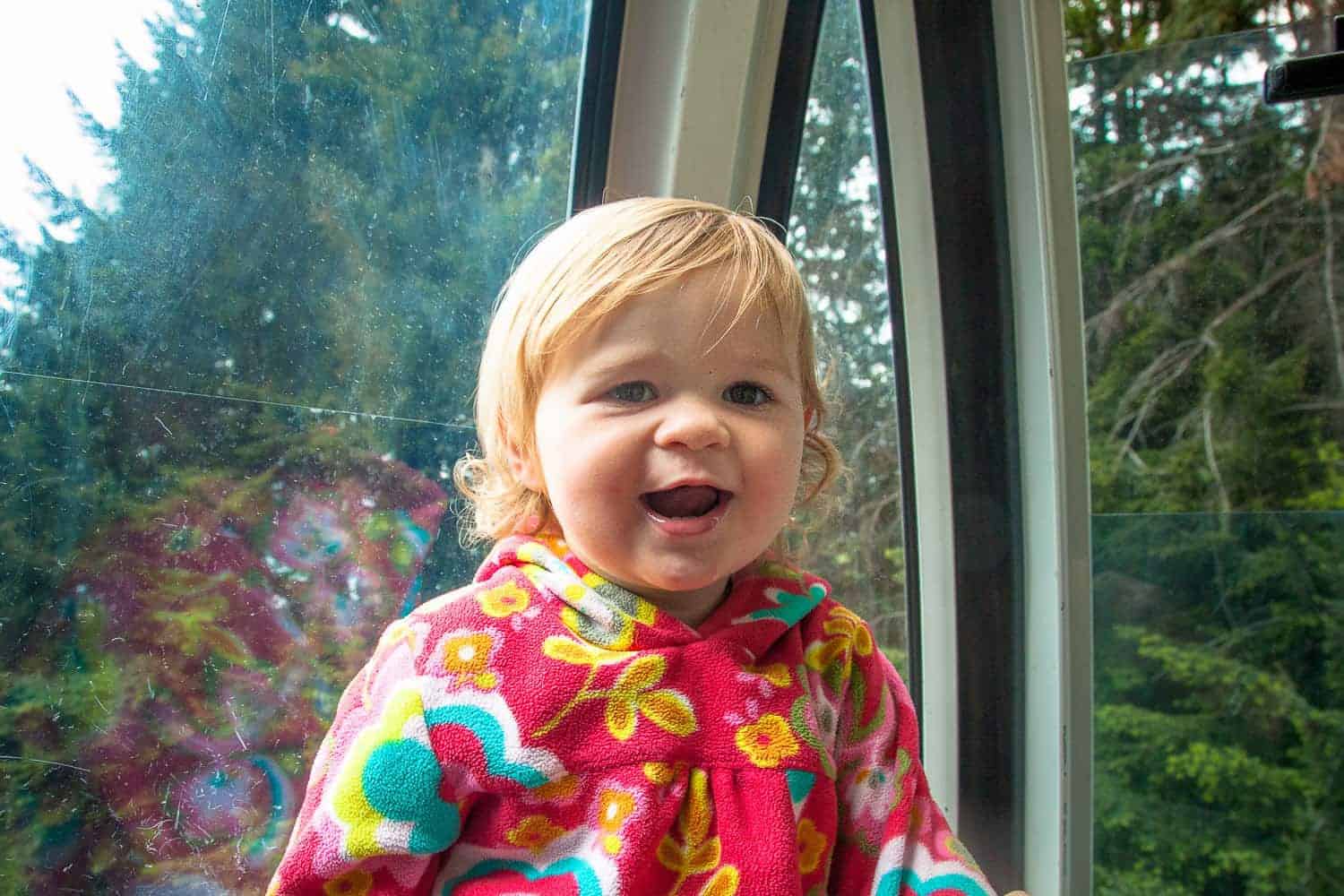 Once you're at the top head over to the viewing platform where you can spend as long as you like taking photos of the spectacular scene before you. I recommend grabbing a warming hot chocolate at the cafe and sitting outside to take in some of the freshest of fresh air. There's a couple of extra activities up here too, one of which is definitely my kind of thing! The Luge covers nearly half a kilometre in length and gives you even bigger views from a high point than the viewing platform. You can get a combination gondola and luge ticket too.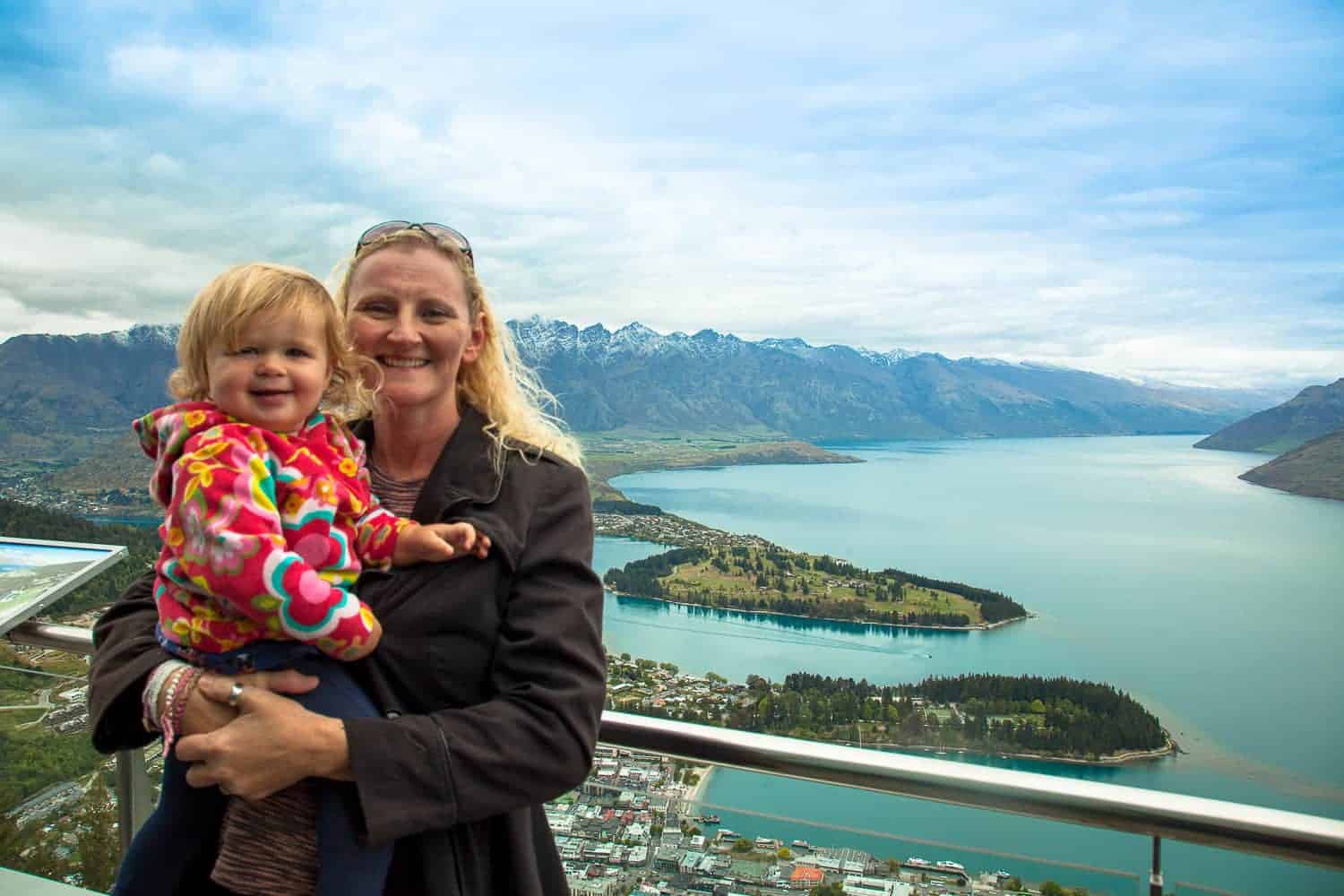 While our 1 year old daughter may not have truly grasped the magnitude of what she could see up here, the photos we have of her are something quite special, well worth taking a couple of hours out of your day to enjoy the best views in town, of town!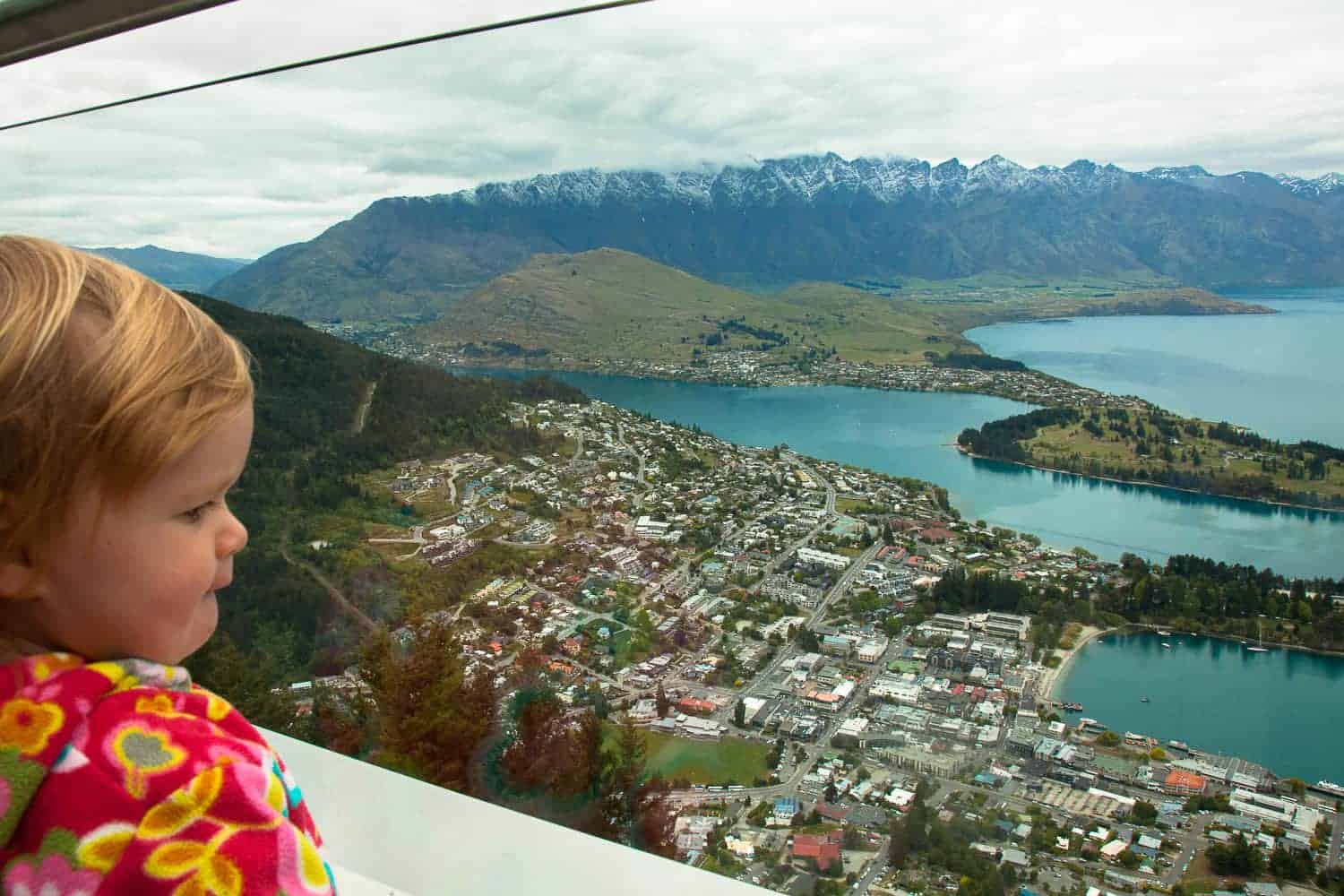 Lunch in Queenstown
For us there really was only one area of Queenstown we wanted to have lunch, after watching boats enter the port area of Lake Wakatipu we discovered a number of cafes with tables out in the spring sunshine at "Steamer Wharf". Perfect for watching the world go by and soaking up some of the relaxed tourist atmosphere in Queenstown. The entire place seems filled with tourists and people on working holiday visas. In fact it was a couple of days before we were served by a New Zealander at any shop or cafe, such is the appeal of this town that tourists become locals. There's plenty of other eateries in the town centre as the entire place is really geared up to serve tourists with bars, restaurants and outdoor clothing stores.
Shotover Top 10 holiday park
While our holiday park wasn't right in Queenstown it was situated somewhere equally spectacular with some of the best views you're likely to ever have when looking out the window of a Maui Motorhome. The powered sites were easy to park our big beast in and the kitchen area was particularly good with a huge space to cook in and a warmly lit lounge area with an inviting fireplace and sofas too. Whenever you step outside you're surrounded by mountains again, a view that never grows old and I found myself making excuses to go outside and see it all over again. Check out qtowntop10.co.nz for more info .
Follow our New Zealand adventure
You can follow us as we travel through New Zealand with Maui Motorhomes with the hashtags #GoByCamper and #MauiMotorhomes you can also follow us on twitter at @travelwithamate and check out @MauiRentals while you're at it. We'll have plenty more blog posts, photos and videos soon!