Not only is Québec City one of Canada's most beautiful cities, it is also one of the country's winteriest.  Founded 400 years ago by French explorer Samuel de Champlain, Québec City is the only fortified city in North America (aside from Mexico), and despite being an excellent year-round destination, when the snow falls, the magic in Québec truly begins.
Carnaval de Québec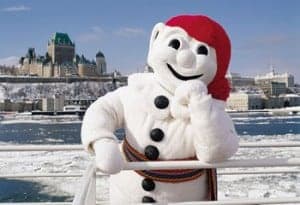 Every year Québec City truly epitomises a winter wonderland with its Carnaval de Québec.  The 2011 festival kicks off January 28 and parties on until the 13th of February, and encompasses everything that is quintessentially Québec.  Led by the always cheery Bonhomme (snowman), the mascot of Carnaval, activities range from the tame to the extreme, with something for everyone.  Parades, snow slides, soap-box derbys, skating, sleigh rides, snow sculpture workshops, and spas are just some of the activities going during Carnaval.  Add that to the more extreme activities such as cold water canoe races, dogsledding, snow baths, and snow-rafting, and top it with the delicious treats, like traditional Canadian BeaverTails and maple syrup, and you've got one hell of a party.  There's also an international snow sculpting competition, restaurant partnerships, and nightly dance parties…seriously, it's party time!
Red Bull Crashed Ice
Only Red Bull would come up with this, and only in Canada (and a few other crazy winter countries) would you find this.  It's a race.  On skates.  On ice.  Down a hill course that twists and turns and bumps up and down.  It's ape.  Like, actual insanity.  YouTube it and you'll understand.  On the 19th of March, 2011, Québec's Old Town is transformed into a giant skating death trap, intended for athletes from all over the world to hurl themselves down it in a crazy race.  But what Crashed Ice also transforms is the atmosphere in the Old Town – it's a great party that's well worth the visit.  You'll get an insane spectacle and a lively, energetic party.  Nothing better to keep warm in the chilly winter, eh?
https://www.youtube.com/watch?v=n4SHUPxB6kI
Red Bull Crashed Ice 2010 Québec City Event
Ice Hotel / Hôtel du Glace
Only a few countries in the world can boast an Ice Hotel, and Québec makes Canada one of those countries  (Kiruna in Sweden, and Lapland and Kumi in Finland are the others).  Melted and rebuilt ever year, the the Hôtel du Glace in Québec is open in 2011 from January 7 to March 27, and hosts guests, visitors, and even weddings.  Located less than an hour drive north of Québec City, the Ice Hotel is spectacular, and something every winter visitor to Québec should experience.  They claim that the rooms become "natural Nordic cocoons", which is enticing enough, but add in theme suites and fireplace suites, and it just gets more appealing.  It really must be seen to be believed, and the photos on their website come very, very close to doing it justice.  It promises not to disappoint.
Sugar Shacks
The province of Québec, producing 75% of the world's maple syrup, is the best place to indulge in the purest form of this sugary sweet delight (Canada as a whole produces 80% of the world's maple syrup).  Scattered throughout the province, and skirting around Québec City, the sugar shacks (érablières) are waiting for visitors to use popsicle sticks to 'tirer' (pull) the maple syrup off crushed ice.  Many of the sugar shacks also welcome visitors into the 'cabane à sucre' (literally, the sugar cabin) where they serve piping hot meals to help warm up from the chilly outdoors.  One of the easiest érablières to access from Québec City is Érablière le Chemin du Roy, which offers some great little packages including tours and maple syrup.  Sugar shacks are typically open only during the winter months, usually January to March (sometimes April if you're lucky).
If you want to venture a little further (closer to Montrèal, about three hours from Québec City), is one of the best cabanes à sucre in the province.  Recently voted one of Canada's 10 best new restaurants by enRoute Magazine, Au Pied de Cochon is chef Martin Picard's foray into new twists on very traditional dishes, like gourmet tourtières (meat pies), foie gras pea soup, buckwheat crèpes with maple syrup, and smocked-mackerel omelettes.  Mouth watering?  Book ahead.  Places fill up very fast, especially because Au Pied de Cochon is only open mid-March until May.
Fairmont Le Château Frontenac
Old Québec City is nothing short of magical, and part of that has to do with the majestic old luxury hotel, le Château Frontenac, now owned by Fairmont.  Imposing itself over the banks of the St. Lawrence River, the Château Frontenac is the city's most iconic landmark.
While it can get rather pricey to stay there, don't give up hope – deals can definitely be found.  Even if you don't stay there, you absolutely must visit the hotel while in Québec City – wander around, bask in the old splendour, and make sure you say hi to Santol, the Château Frontenac's Canine Ambassador.
So however you do Québec City in the winter, know that you're going to one of the most delightful winter wonderlands around. Keep warm and enjoy!