During a recent Sunday phone call, my mom told me she was planning to ride the Alaska Highway on her Harley.
Some friends had done it and she thought she'd give it a go. Listening to her talk, all I could think about is how different we are when it comes to travel.
Our Travel History
My mom and I used to travel together on her (and my dad's) terms. The whole family flew to Alaska in my dad's single-engine Cessna Hawk XP when I was a kid.  A piece of equipment malfunctioned and our trip ended with a forced landing on a beach somewhere.  I remember our descent—seeing that long, sandy stretch getting closer and knowing things were not going according to plan…
My mom doesn't need a plan.  She is as happy on a guided tour of Greece as she is weekending in a camper van or riding cross-country on her Harley—solo.  I'm not.  I know my mom wishes I were interested in her motorcycle, but she's come to terms with the fact that my travel dreams are very different from hers.
Since I became an adult, my mom and I have only taken trips that fit within my comfort zone.  We toured the United Kingdom with Globus and China with Odysseys Unlimited.  A tour director guided our every step; hotels and meals were laid out months in advance.
My Biker Mom's Alaskan Itinerary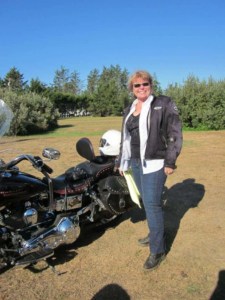 On the phone that morning, my mom was discussing her "plans."  She was considering the East Access Route.  She had heard good things about Faro and Chetwynd.  I pulled out the Rand McNally and couldn't find either on the map.  Nor could I spell them to look them up in the index.
She wanted to ride to Lake Louise and on toward the Top of the World Highway.  She might visit her friend who builds ice roads in Alaska's Bush, but she was keeping her options open. My mom was a little worried about the stretch between Fort Nelson and Watson Lake (a friend had broken down there), but she had relied on the kindness of truckers before…
I was "a little worried" about the whole endeavor.  Where was the woman who had convinced me that crossing the street was dangerous?  But I had to tell myself she would be okay.  Accidents happen, but you may as well live your life, right?
Her Little Princess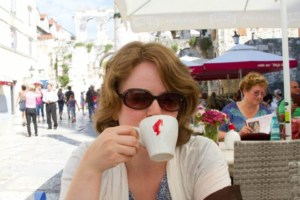 No matter how well my dad handled that beach landing all those years ago (he's a pro), I was emotionally scarred for life.  Now that I am old enough to plan my own trips, I opt for civilized travel.  One of the highlights of my last trip (to Croatia) was an afternoon at a cafe in Split inside the ruins of a Roman emperor's palace.
My dream Alaska itinerary would focus on Alaska rail tours.  I'd eat delicious food, read books, and enjoy the scenery while someone else did the "driving."  I'd spend several days flightseeing in Denali—checking out bears from a safe distance.  My trip would finish with several nights at a luxurious Anchorage hotel while I toured the local art galleries.
Maybe someday I'll grow into my mom's spirit of adventure.  Maybe.  Until then, I'm grateful that my mom is willing to cater to my limitations and I give any bikers I meet on the road a little extra room to maneuver.
Do you have any Alaska travel tips for the adventurer or the tourist?