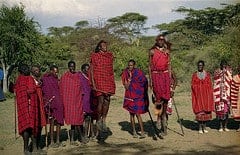 Visiting Loita hills Masai Village is a once in a life time experience because it's in this region where you will be able to experience the unique Masai culture.
The village has some great activities for tourists. From lectures on Masai origin to  the Masai "self contained houses" with everything the family needs including a room for the calves and goats!
A visit to the loita hills Masai village exposes one to the original Masai culture which has remained uninfluenced by modern education or Christianity. So when you're on safari in Kenya don't forget to soak up some culture too!
A really amazing wildlife encounter
The annual wild beast migration is a spectacular event to watch. Watching the animals crossing the Mara River from Serengeti National park to Maasai Mara Game reserve is breathtaking. The struggle for survival is amazing: Mara crocodile feeding on wild beasts and calves gasping for breath as they drawn away. The saying that survival is for the fittest is best manifested here.
httpv://www.youtube.com/watch?v=PuJyDeV2wOQ
More information on Kenya here
Top 5 favourite experiences in Kenya (and why they're so good!)
Crossing the equator line and experience water demonstration experiment.
It's only in Kenya where you will be able to see some specific type of wildlife, only found in the northern part of equator commonly known as Special five. Eg reticulated giraffe, Somali ostrich, Gravy's zebra, Gerenuk and Beisa Oryx.
Informative Cultural Tourism- Maasai village tour.
Lake Nakuru national park, the only place where you will be able to see W hite and Black Rhinos easily.
The great rift valley. The views speak for themselves

The Intrepid tour guide Julius Leteele gives us his take on Kenya safaris and cultural tours.
What's your favourite National Park and why?
I can't really figure out my favourite National park because there is a lot of uniqueness in every park we visit. I would recommend them all if you have the time!
What's the most amazing wildlife encounter you've ever had?
When a pride of lions killed a zebra in our bush camp at Samburu National Reserve at night, and we had to stay in our tents up to around 10am in the morning when the game rangers came to scare away the lions.
What's your top tip for getting off the beaten track in Kenya
I would encourage use of local tour leaders like the guides intrepid use, because they understand their country better. You can ask them any questions and they'll make sure you get the real Kenya experience.
Camping trips v lodge trips – which do you prefer and why?
I prefer camping because it's real and it promotes intensive interaction between crew and clients unlike the Lodge, where clients are always on their own.
What do your passengers love most about Kenya?
They say Kenyans are easy to get along with and they are very welcoming.
Awesome offers from Intrepid Travel
Intrepid Travel are offering two great special offers.
An impressive 15% discount on their Kenya Wildlife Safari
£150 off their Kenya Lodge Safari