Picture the scene: I'm stuck on a runway in Beijing's Capital International Airport. We've been there for an hour already, I have a 13-hour flight ahead of me and the guy who's sat to my left is already breaking wind like it's going out of fashion. I am not a happy bunny.
For all the travelling I do, you'd think I'd be a pro at flying long-haul. But the truth is, I hate it. It makes me feel nauseous, I don't like being cramped in Economy (whatever name they hide behind, "World Traveller", it's still cattle class to me) and frankly, I get bored easily. If I didn't like exploring new places so much, I'd probably be one of those people who leave their home village once every decade or so.
Anyway, the point is if I can emerge from a airplane feeling ready to tackle whichever place I've landed in, anyone can. Here are some of my personal thoughts on surviving that long-haul flight;
Try to Reserve a Decent Seat
This depends on the airline, but some will still let you reserve a seat (often on a first come, first served basis when you check-in online). Get in there early and try to nab a seat with a bit of legroom; an exit row seat is always a good bet.
Drink Water Not Whiskey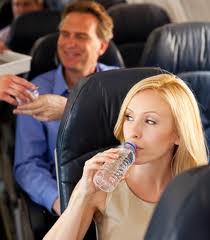 If you're being offered beer, wine and spirits for "free", it's tempting to get completely and utterly sloshed. I know, I've been there and it makes me feel like crap. Have a few drinks, sure, but make sure you keep hydrated by sipping plenty of water and juice.
Move Around
Nothing new here; if you sit in your seat for hours at a time, you increase the risk of DVT. So every hour or so, take a walk. A saunter to the toilet, perhaps? A jazzy little jaunt along the aisle? Why not pester the flight attendant for more whiskey (ahem, water) while you're there?
Pack Earplugs in Your Hand Luggage
Earplugs are almost as important to me as my passport. They have kept me sane on many a night in a shared hostel dorm (why do some couples think it's appropriate to "snuggle up" in the bunk above me? Why?) and are a godsend on a long-haul flight. Sleeping is the best way to pass the time, and with earplugs firmly in place you stand a good chance of some shut-eye.
Don't Forget a Travel Pillow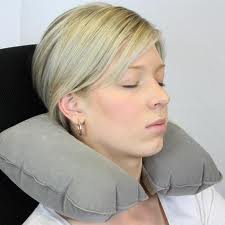 Like earplugs, travel pillows are a must for flying long-haul. Mine is inflatable and fits snugly around my neck like a collar, so I can fall asleep without jerking uncomfortably awake again. Most of the time.
There's loads of other stuff I could cover, but to me the five points above are the most important. As long as I'm hydrated, as well-rested as I can be and (touch wood) don't have DVT, I'm good to go on the other side. I just wish I knew a way to stop my fellow passengers farting.