After a bumpy plane journey in a little Airbus A320, flying over the top of Typhoon Ketsana, we arrived  in Hanoi and enjoyed a friendly and entertaining cab ride to our hotel. Through constantly beeping traffic and random chicken noises emanating from the driver's phone, we drove to the Old Quarter of central Hanoi.
First impressions of Hanoi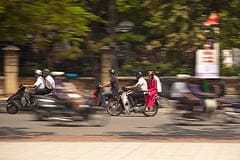 First impression of Hanoi by night is total confusion. A city with more street vendors and road side cafes than anywhere else in the world and over 2 million bikes and mopeds on the roads with no sign of traffic control anywhere.
By day confusion paves the way to entertainment. Walking out of our hotel you're instantly confronted with bikes everywhere, the occasion 4×4 vehicle hogging the road and a walk to anywhere involves navigating the stalls that sprawl from each shop. It seems Hanoi is full of districts specializing in particular products. One road seemed to be just kitchen utensils, another just fans of all shapes and sizes.
Wandering around Hanoi through constant potent fumes from bikes soon makes you want to seek out quiet areas of town. The lake in the centre of town is one such area. The Temple of Literature is another. It's easy to chill out and take in the sights. The temples are beautiful and I'd highly recommend a visit.
The mausoleum
We didn't see Ho Chi Minh's body as it's currently "Undergoing maintenance" as it does for 2 months of every year. The mausoleum area is enjoyable to walk around none-the-less.
As entertaining as the streets of Hanoi are, 2 days is more than enough of the overwhelming bike fumes so we booked a 4 day trip to Sapa in Northern Vietnam. A gorgeous valley region were we could do a 2 day trek and home stay in a small village. Time to sample so more peaceful and traditional Vietnam.