Our journey back from Sa Pa in the North West of Vietnam was enjoyable and remarkably restful. Helped along by sharing a room on the train with a new friend from Australia. A few beers and fun chat followed by sleeping tablets and a good nights sleep!
We awoke back in Hanoi, dozily alighted our train and were met by a rep who showed us to a pre paid taxi. A rather pumped up Daewoo Matiz with a very loud sound system the cabbie was clearly proud of. Rushing through the relatively deserted streets at 5:30am, zipping over crossroads at full speed without any hesitation.
A day in the hotel to edit all my photos an we were ready the next morning to head off to Halong bay on the North East coast.
A 3 hour bus journey later and we were boarding our boat. The ornate wooden Junk Boat, one of seemingly thousands floating around the harbour. We settled in, had a drink and admired the view as we floated off among the massive limestone rocks jutting from the sea.
Sailing among giants
You almost feel you're sailing among giants. Huge rocks all around covered in dense vegitation. It's quite a sight. The sound of nature is almost always drowned out among the constant hum and 'fut fut' from diesel engined boats all around. The impressively ramshackeled floating villages appearing from behind rocks. People living on the water with their dogs, their fishing equipment and their televisions of course.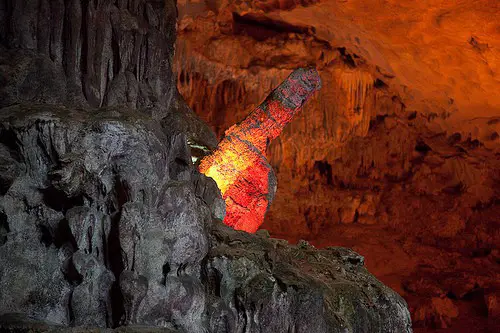 We visited the 'Surprising Caves' which are either so called because of their increasingly surprising size as you venture through each of the three, or possibly the rather phallic shaped rock protruding from one stalagmite.
We then gingerly boarded one floating pontoon made from old doors and the occasional floor board. All strapped to giant blocks of polystyrene. Given an oar each we got into a bright orange kayak and paddled off on our own for 45 minutes.
The massive size of the rocks really becomes apparent when you're just inches from the water's surface. We found a shrine on one rock as well as tiny crabs with bright purple claws. Dodgin junk boats and the halong bay equivalent of street sellers who row with their feet and constantly try to sell you beers, Pringles and Oreo cookies.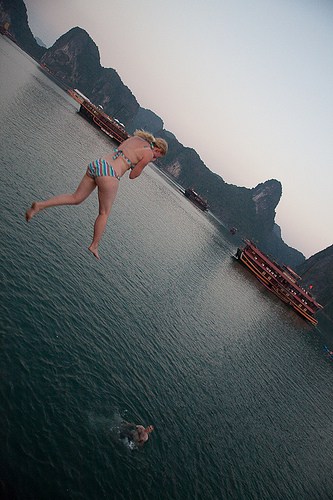 Back on board our Junk Boat we were giving the chance to swim in the sea and we enjoyed jumping from the very top of the boat, a much bigger leap that first thought although it didn't stop us doing it again!
We met some great people including 3 Dutch ladies and enjoyed an evening of chatting, avoiding the karaoke machine and trying a spot of fishing although our best effort resulted in catching a plastic bag.
The water was so calm we slept really well surrounded by lots of other junk boats creating quite a sight after the sun set. While the rocks are very pretty and the water warm, it isn't clean. Constant boat activity and floating villages has lead to a large amount of floating waste of one sort or another. Bottles, bags, oil, general rubbish. For a national heritage sight it's a shame although we were aware our presence was adding to the problem.
The next day we sailed to Cat Ba island. The biggest island in Halong Bay. A short bus journey and we were told a light trek was the order of the day. The trek was far from light but great fun. Sweating like crazy while stumbling up the side of a mountain to eventually enjoy the breathtaking view of surrounding mountains.
Monkey Island
We checked in to a hotel on the island and after lunch visited Monkey Island. After another hot and pointless walk to another part of the island we returned to where we started and met the local inhabitants. Sure enough there were monkeys. Quite a few. It seems they enjoy snatching cans of Coca Cola from tourists and guzzling the addictive liquid. They're quite vicious little buggers so we kept our distance an took a few snaps. A trip to the toilet 'shed' involved a bodyguard with a stick to fight off the rather large monkeys on the roof.
The next day we were back on the Junk Boat and heading slowly back to mainland Vietnam. The long bus journey back to Hanoi was an event in itself as we beeped our way along the motorway, trying to overtake anything in our way, the same time buses in the opposite direction tried the same trick.
We had some great fun in Halong Bay. Met some great people and even bumped into them again in Hanoi so had dinner and drinks. It was nice to get away from polluted Hanoi as much as we've enjoyed staying there.