It's more affordable to visit than it once was, but New York hasn't given up its grip on a top-ten spot as one of the world's most expensive cities.  It also hasn't lost any of its appeal and remains one of the most captivating cities you can visit.
So how do you make the most of your budget in a city that takes a second to fall in love with and a lifetime to explore?  Here are some of the best things you can to in NYC and they won't cost you a dime – save your money for Fifth Avenue.
Walk the Brooklyn Bridge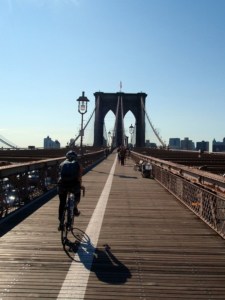 The bridge is about 1.8km across so it isn't too far to walk over and back again.  If you want to walk just the one way, then it has to be heading towards Manhattan.  It's the kind of sight that sends shivers down your spine as your mind celebrates: Yes!  I'm in New York!
Catch the subway to Brooklyn (either the High Street-Brooklyn Bridge or Clark Street Station stops) and walk back into Manhattan.  If you're up for the double, start at the City Hall or Chambers St subway stops and enjoy the view out to Brooklyn before rewarding yourself with the Manhattan skyline on the return.
See the Statue of Liberty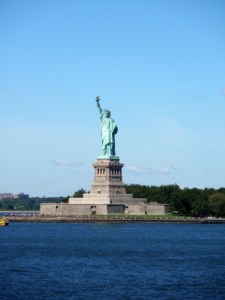 You can fork out for a trip to Liberty Island, but if seeing the Statue is all you want, hop on the Staten Island Ferry.  The ferry leaves every half hour and takes about 25 minutes each way, so you can ride it over (for free) and then get off, walk through the terminal, and get back on for the return trip to Manhattan.
The ferry doesn't get that close, but it's good enough for photographs and you'll get a great view of the city.
Visit the New York Public Library
One of New York's most beautiful buildings, inside and out, is completely free to experience.  You can explore the Stephen A Schwarzman Building at your own pace and make use of the periodical reading room stocked with newspapers or magazines, internet access or free wifi.  If you can score a spot, jump on one of the free tours.  The hour-long tours are given daily and you'll learn a lot about the building – including where to find the original Winnie the Pooh toys.
Explore Central Park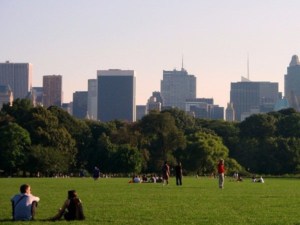 This doesn't really need any explanation. You can sit on the grass for an hour, have a nap and tick off a major tourist attraction at the same time.  Be warned it's easy find yourself walking in circles.
There are maps throughout the park, but take one just in case.
Be a kid again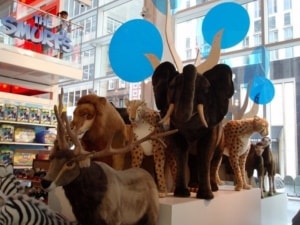 No matter what your age, FAO Schwarz will bring out your inner child.  After 150 years in business, it's the oldest toy retailer in North America and an incredible place to visit.  It's on 5th Avenue between East 58th and 59th street.
You can dance on the giant foot piano, like Tom Hanks did in the movie Big and check out some amazing toys such as a limited-edition Barbie Foosball Table selling for $25,000.
Where to stay
There's no end of famous hotels in New York but there's many other options when it come to accommodation. Boutique hotels like Algonquin Hotel, are cropping up all over the city especially around Central Park and hotspots in Manhattan. You'll also find some of America's best guesthouses and hostels too. If you're looking for luxury then look no further than the Four Seasons, Ritz Carlton or Peninsula. It may also be worth considering timeshare options as this can make regular holidays a more luxurious and affordable option.