Travelling with our Maui Campervan in New Zealand feels perfectly natural, especially as the roads seem to only be used by other camper van tourists! We travelled through the beautiful Arthur's Path from Franz Josef on the west coast to Christchurch on the east. Its a fantastic journey that winds up in to the mountains and over to the east coast of New Zealand. It gets pretty steep at one point but it was no problem even for a big 6 berth campervan. Our #GoByCamper road trip had finally reached the gorgeous city of Christchurch.
Earthquake city
When I last visited Christchurch in 2001 it was famous for its hundreds of parks, its pretty streets and bustling city centre. This leafy city has some great districts and gorgeous coastline but in recent years Christchurch has become more famous for one big event that will truly shape its future. The city and surrounding area sit on rather unstable ground, prone to earthquakes of sizeable proportions, there's been plenty over the years but 2 in the space of a year caused the most damage. A 7.1 magnitude earthquake in September 2010 followed by a 6.3 in 2011 caused widespread damage especially to the CBD. The 2011 earthquake also killed 185 people with hundreds of buildings collapsing or damaged beyond repair.
While this may all sound like a horror story one could argue that the regeneration of this great city is now its latest tourist attraction. A walk around the CBD is definitely something you should do as there's no sight quite like it on earth at the moment. Over 85% of the buildings in the city centre have been condemned and are currently being knocked down, rebuilt and redesigned to withstand future earthquakes. Everywhere you look for street after street you can see properties with earthquake damage, both of historical importance and modern local economy. The Cathedral square area is especially worth a visit with the iconic church now fenced off after the tower collapsed. I've never seen an entire city affected by something like this before and never heard so much construction happening all around.
Its now been 4 years since the devastating earthquakes and there's a lot to be positive about. Better, stronger buildings are popping up all around, businesses are returning to a once fenced off city centre. There's pop-up cafes and clothing stores everywhere and even a "Quake City" museum housing a number of artefacts from important buildings as well as plenty of detail on what happened.
There's some great art installations too honouring those the dead and offering renewed optimism for Christchurch's future. None more poignant than the "185 empty chairs", a collection of assorted chairs painted white offering a reminder of the casualty of the earthquake. I highly recommend a walk around town, support local businesses and see for yourselves how the city is being reborn.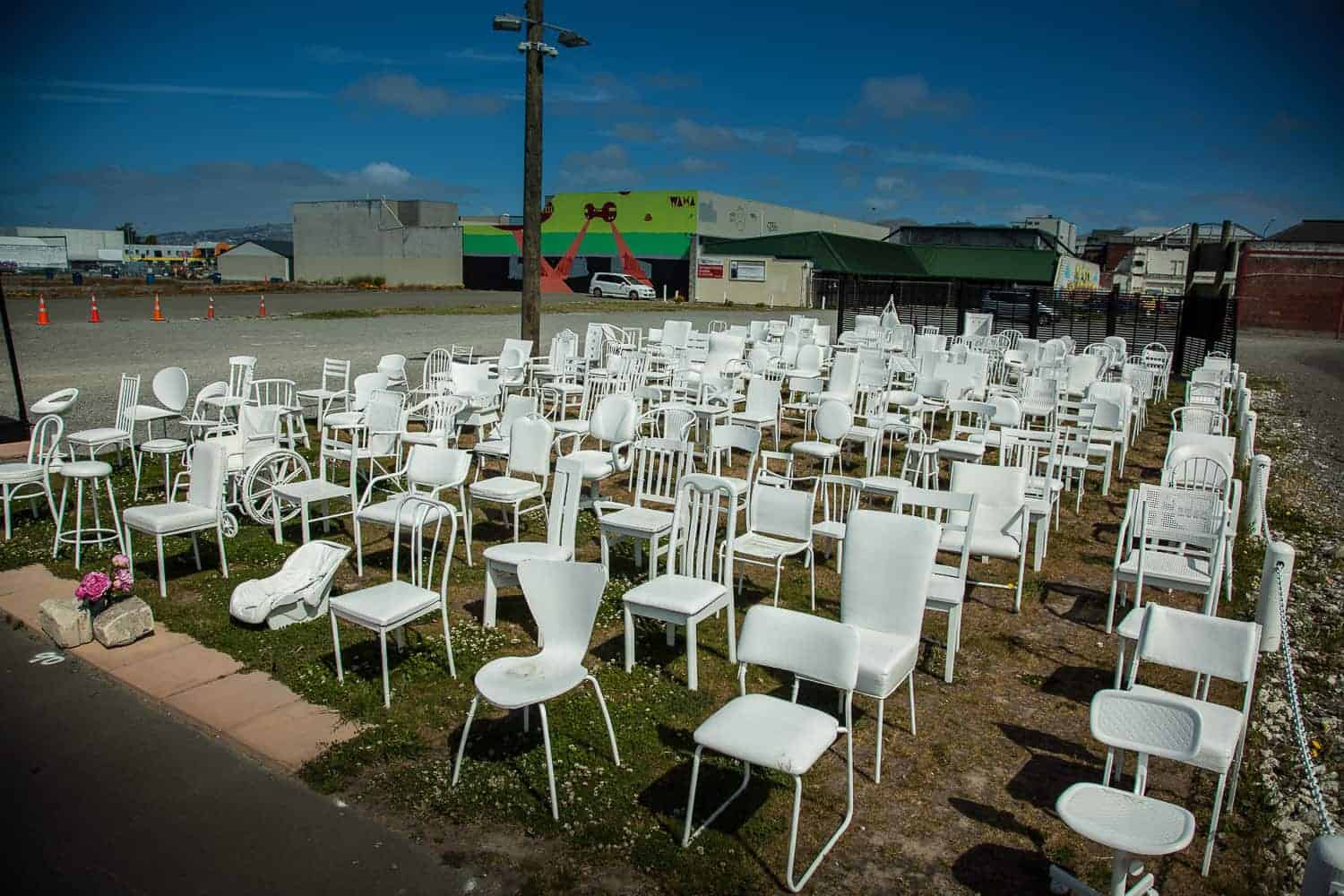 Botanic Garden
Always a cheap and easy option while travelling, I think Christchurch's Botanic garden is probably the best in the world. The city is filled with great parks but none better than this. Plenty of parking even for big Maui Campervans, a wonderful new visitors centre with café and also some historical buildings like the greenhouses that are a welcome warmth on a chilly day. Our daughter delighted in exploring the rose garden too. A beautiful area filled with some truly beautiful varieties of rose, this is where she learnt to smell flowers and has been doing it every since. The parkland here is exceptional and you could literally spend hours here relaxing, exercising and soaking in the fresh air. I'd actually recommend this spot for lunch as many of the CBD cafes and restaurants are currently closed due to the building work.
Top 10 Holiday Park
We stayed at the perfectly located Top 10 Holiday Park in Christchurch, a very easy drive in to town and in a residential area with good access too. This holiday park even has a drive-through check-in service for campervans, something I'd not seen before and made booking our powered site for 2 nights very quick and easy. The holiday park is fairly compact but we had enough space for our big van and there's a new children's play area that our toddler made a bee-line for as soon as she saw it! We got chatting to a few families here too, one of which was from Christchurch, forced out from their home by the earthquake and awaiting repairs while they lived at the park. We also met some fellow travellers-with-toddlers like ourselves and its always re-assuring to share experiences and see yet more proof that travelling does wonders for children of all ages. They all seem to love the campervan lifestyle too and our daughter yelps with joy every time we arrive somewhere new she can explore.
Follow our #GoByCamper Adventure
A big thank you to Maui Motorhomes for this amazing experience and to Top 10 Holiday Parks for their hospitality. You can follow more of our adventures, and others on twitter at #GoByCamper and #MauiMotorHomes or via our Facebook page. Be sure to check out the Maui Facebook page too for all the latest campervan gossip!