I'm sitting in the back of a green bus with a leprechaun painted on the side. The Cranberries' Zombie is playing from the drivers' ipod and outside I can see green paddocks, stone walls and, unusually and unexpectedly for Ireland, sunshine.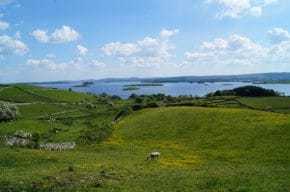 We're driving from Dublin to Galway through what our guide, Mike, has described as "the hole in the donut", a reference to the circular route most tourists take around the country to visit the sights dotted along the coast. This area might be considered second rate in the tourism stakes, but it's still incredible scenery.
The Stena Line Gathering 2013 started in Holyhead, Wales, with a trip aboard the Stena Adventurer to Dublin that was the definition of smooth sailing. Weather in this part of the world is fickle at any time of year and we've hit the jackpot.
After a night at The Temple Bar Hotel (www.templebarhotel.com) and exploring Dublin's Temple Bar district, known for its pubs, restaurants, live music and tourists, we boarded our bright green Paddywagon Tours' (http://www.paddywagontours.com) bus and let Mike, a long-time guide with the company, take us west.
Ashford Castle
After two hours of driving we turned off the motorway and Mike navigated the narrow rural roads of County Mayo. Just a few kilometres from the fishing village of Cong, we turned left and stopped at an imposing set of stone gates. The impeccably-dressed Frank, who must have been baking in his suit, cast an eye over our bright green bus and let us through. I think I'm right in assuming a bus like ours doesn't often grace the gates of Ashford Castle.
Building of the medieval castle began in 1228, making it one of Ireland's oldest buildings. It sits on the shores of Lough Corrib and to describe the view over the castle, the expansive grounds and its sparkling blue backdrop as stunning does not do it justice. As we approached the castle, passing an immaculate golf course and crossing a narrow stone bridge, we start questioning if we're underdressed. The Castle, like a lot of things in Ireland, was once owned by the Guinness family, before becoming a luxury hotel in 1939. Former guests include Fred Astaire, Ronald Reagan, Brad Pitt, Russell Crowe and Princess Grace of Monaco. Our bunch of bloggers, battling Ireland's impressive version of summer in jeans, t-shirts and flip-flops, looked a little out of place in the hotel's drawing room while dining on Galway Bay oysters, Irish stew and what may be the most elegant serving of fish and chips in Ireland.
The Castle is dotted with trinkets of history. Waterford chandeliers dangle from the high ceilings, heavy timber dressers display antique porcelain plates and there's even a dungeon, which is now used as a bar and dining area, but in the past, well, who knows what went on down there.
While the Castle is by no means stuck in the past (there's wifi and it's even on Twitter), visiting here is a glimpse into another world where traditions are upheld and no detail goes unnoticed. The cleaning staff, dressed in black and white with red flowers pinned to their name badge, have polished every surface and the employees line up outside the Castle to greet groups like a scene from Downtown Abbey. Guests spend their days playing golf or archery, horse riding, learning the Art of Falconry, or relaxing in the on-site spa or taking tea in the drawing room. A wooden chess set sits on a table in the lobby and I wonder how many hands have touched its beautifully carved pieces while passing time on a drizzly Irish day. When a bagpipe player strolls through the hotel it doesn't look out of place.
After lunch and a tour I never want to leave, but I think stomping my foot and demanding to be allowed to live here just wouldn't do at Ashford Castle.
Ireland's Emerald: Connemara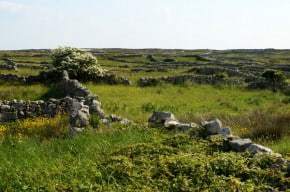 After circling the village of Cong, which still clings to its claim to fame as the setting for the John Wayne movie The Quiet Man filmed in 1952, it isn't long before we're climbing into the hills of Connemara. Ireland is known as the emerald isle, and Connemara the emerald of Ireland. On a day like we have, it's not hard to see where the term comes from.
Connemara is a big area in west Ireland and we're only exploring a small part, crossing from County Mayo into County Galway just after Cong, following the R345 then R336 to the coast. The roads in this part of the country are bumpy – the bogs don't make for firm foundations.
We were only ever an hour or so from Galway city, but you wouldn't know it. The landscape varies between rocky paddocks and craggy mountains and overgrown, lush fields divided by stone walls. We drove past a lough every few minutes, often stopping for postcard-worthy views.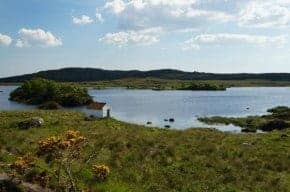 Traditions that are dying in other parts of the country are kept alive in the west. A lot of the pubs and B&Bs have thatched roofs and while most signs in Ireland are written in both English and Irish, here it's just the latter. A sign announces our entry into an Ghaeltacht (Irish speaking area) although that too is in Irish. Luckily, we have Mike to translate while we explore Ireland's largest Irish-speaking region.
Some paddocks, or bogs, are lined with stacks of peat drying in the sun. The turf is dug up into "bricks" and burnt to heat houses. These days machines are used to dig up the bogs, but stacking the bricks to dry is still done by hand and we see several people at work in the sun.
After a couple of hours of hills, rocks and loughs, we hit the coast and followed Galway Bay into Galway.
See it for yourself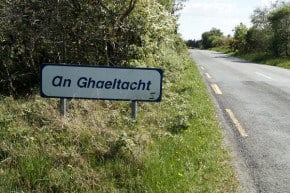 Paddywagon Tours has several tours that visit Connemara, ranging from the Connemara and Galway Day Tour from Dublin (€35) up to the nine-day "All Ireland" tour (pounds 425).
The public can access the grounds of Ashford Castle, but not the Castle itself unless you are a guest of the hotel. Entry costs €5 for adults and €3.50 for children, however the grounds are often booked for sole use so it's best to check ahead if you want to visit.
The Gathering
The Gathering is a year-long celebration of the traditions, heritage and history of Ireland. A range of festivals and events will be held throughout 2013. You can search for events at the official website (http://ireland.com)
For more photos and information from Stena Gathering 2013 check out the Stena Line UK IE Facebook page and follow on Twitter @StenalineUK
Stena Line Gathering 2013 was hosted by Stena Line, Tourism Ireland and Paddywagon Tours. All opinions are my own.